Yankeetown School
Submitted by Kevin Alfultis
1939 - 2nd & 3rd grade
click on image for a larger view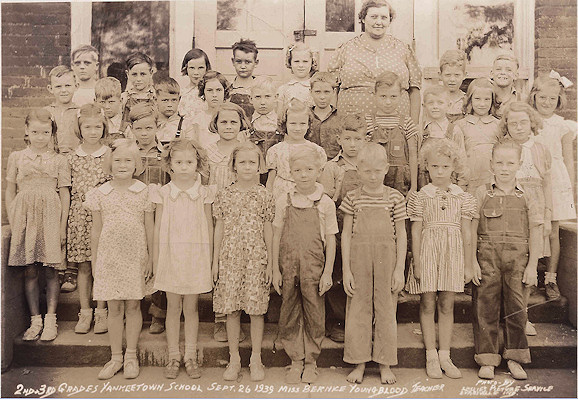 Click HERE to view the back of picture giving names
Back Row, L to R: Bill Barnett, Posey McCormick, Corabelle Stepro, Homer Henderson, Marily Merrill, TEACHER, Raymond Burch, Jack Kemp
3rd Row: Harry Harney, Carl Miller, Krege? , Donna Shoemaker Bates, Maurice Lerch, Jesse Harold Libbert, Herbert Metzger, Darlene Dempsey, Lucinda "Linda" Lerch,
and Row: Ruby Jefferies, __________ Hemmings, Donald Bullock, ______________, Doris Jean Barnett, ____________, Judy Sights
1st Row: ___________ Barnett, Bertha Cornell, _________, Donnie Roby (died in Korean War), Billy Smith, Marjorie Hall (married Royce Bolton), Jim Tennyson.
1940 - 6th grade
click on the image for a larger view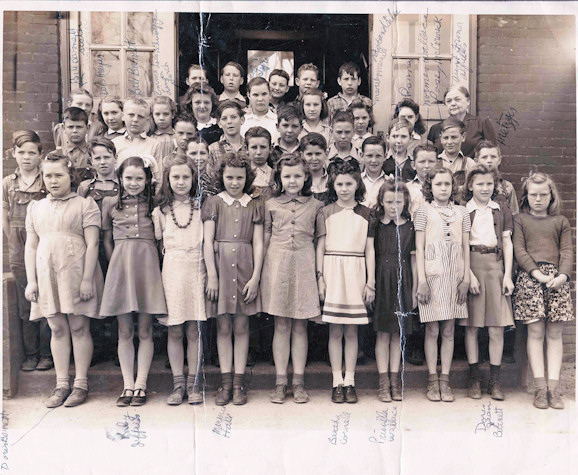 Click HERE to view the back of picture giving names
1940 Yankeetown 6th Grade:
Front, L to R:
Doris Barnett, Ruby Jefferies, ______ Hemenway, Marjorie Hall, Bertha Cornell, Priscilla Wallace, _____ Grant.
2nd Row:
Donald Bullock, _____________, Maurice Esche, _______ Jennings, Norman Wallace, Herbert Metzger.
3rd Row:
____ Kroeger, ______ Barnett, Ray Snodgrass, Jack Stepro, ________________, Owen Snodgrass, Maurice Lerch, Posey McCormick.
4th Row:
Carolyn Barnett, Betty Meyers, Emma Lois Schwoepee, Lucinda ______, Grace Lerlch, Corabelle Stepro.
5th Row:
Darlene Dempsey, Marilyn ______, Donna Jean Shoemaker, TEACHER is Frona Alfultis.
6th Row:
____________, Bill Barnett, ___________, Raymond Burch, Richard Salee.

1941 - 5th and 6th grades
click on image for a larger view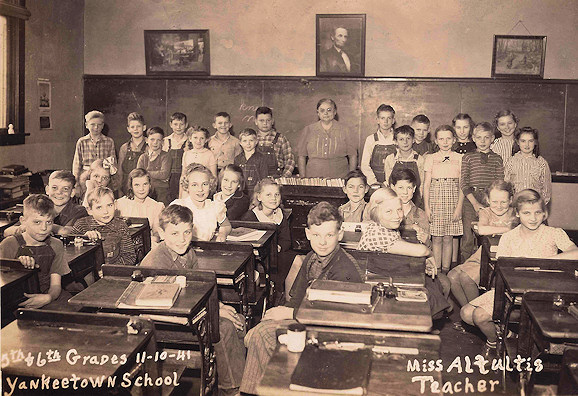 Donna Jean Shoemaker on outside upper right in striped shirt. Frona Alfultis is teacher.
Questions or Comments?
If you have questions or problems with this site, email the County Coordinator. Please to not ask for specfic research on your family. I am unable to do your personal research. I do not live in Indiana and do not have access to additional records.
Contact Us
If you have questions, contributions, or problems with this site, email:
Coordinator - Marsha Bryant
Lena Harper - State Coordinator - gostraka@yahoo.com
Jim Cox - Asst. State Coordinator - nyclvr2012@gmail.com
Karen Zach - Asst. State Coordinator - karen.zach@sbcglobal.net