Post Offices
This list was taken from GNIS mapping service. If you have additional information such as histories, postmasters, etc., please let Marsha know.
The Mail must go thru. The First Mail Route was established in 1812 in Warrick Co., Ind. It was routed from Evansville to Newburgh to Corydon Ky. The mail was carried by horseback and required 2 weeks to make the round trip. Both horse and rider were compelled to swim streams which they could not ford and mail bags were often soaked. In 1847 Mr. Dawson carried the mail from Evansville to Newburgh to Boonville to Rockport to Troy to Midway then he made a return trip changing horses at Midway. In Spring when the water was high the trip was omitted. Mr. Dawson's salary was 8 DOLLARS a MONTH. Later the mail was brought to Warrick in river packets.
The first mail office was in 1868 in the Litzenberger building In 1897 it was moved to the old J W Weldon grocery on Water St. It stayed at that location til May 1958. - Submitted by Tamara Kincaide.
Crowville Post Office (historical) - Folsomville
Folsomville Post office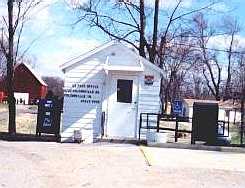 Eby Post Office (historical) - Lynnville
Canal
Millersburg (Canal), village in Warrick County. Platted in 1852 and named for Phillip Miller, early settler, and his descendants. Since there are other towns of the same name in Indiana, the post office was called Canal, for its location on the Wabash and Eric Canal.
Questions or Comments?
If you have questions or problems with this site, email the County Coordinator. Please to not ask for specfic research on your family. I am unable to do your personal research. I do not live in Indiana and do not have access to additional records.
Contact Us
If you have questions, contributions, or problems with this site, email:
Coordinator - Marsha Bryant
Lena Harper - State Coordinator - gostraka@yahoo.com
Jim Cox - Asst. State Coordinator - nyclvr2012@gmail.com
Karen Zach - Asst. State Coordinator - karen.zach@sbcglobal.net