Peltzer School
Submitted by Judy Jenkins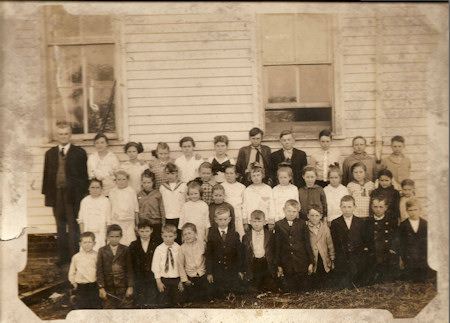 I do not know what year it was taken but do have two people in it that are noted on the back of the picture:
3rd from left 2nd row from front Edna Bernice Sanders b. Aug 25, 1905
Back row 3rd from right - Frank Judson Fisher b. July 26, 1903
These two people married, however, Edna died very young on 9-1-1927. They had one son.
1920 Memory Book


1920 Students
Nola Fisher, Lora Barnett, Alfred Benke, Mildred Fisher, Mary Belle Miller, Hallie Barnett, Kern Taylor, Orien Smith, Nellie Shaul, Dellie Miller, Marvin Fisher, Thomas Helms, Clevie Shaul, Lloyd Hadley, Nera Perkins, Porter Barnett, George Day, Velma Benke, Robert Crenshaw, Lois Fisher, Lorena Harmon, Sheldon Fisher, Robert Miller, Orien Hadley, Floyd Houseman, Helen Boyer, Albert Barnett, Claude Hadley, Dorothy Day, Weldin Shaul, Carl Harmon, Mayro Benke, Kenneth Harmon
1920 Graduates
Charlie Day, Ethel Sanders, Myrtle Shaul, Amon Miller, George Harrison, Lena Fluhrer



Questions or Comments?
If you have questions or problems with this site, email the County Coordinator. Please to not ask for specfic research on your family. I am unable to do your personal research. I do not live in Indiana and do not have access to additional records.
Contact Us
If you have questions, contributions, or problems with this site, email:
Coordinator - Marsha Bryant
Lena Harper - State Coordinator - gostraka@yahoo.com
Jim Cox - Asst. State Coordinator - nyclvr2012@gmail.com
Karen Zach - Asst. State Coordinator - karen.zach@sbcglobal.net